Outstanding natural beauty, sheltered anchorages and excellent conditions make sailing on the Solent a perfect choice for yacht charter in the UK.
Located at the prestigious Port Hamble Marina at the mouth of the picturesque River Hamble, Fairview Sailing's UK base is perfectly positioned to enjoy a yacht charter on the Solent, where you can experience some of the best sailing the UK has to offer.
Our fleet in the UK consists of 40 expertly maintained yachts and powerboats ranging from 30 – 50ft and includes a new Dufour 430 GL and Dufour 460 GL, both of which were welcomed to the fleet in spring 2019 and are available on bareboat and skippered charter basis, so whether you are a seasoned pro or new to the sailing game, we have something to suit you. We also have a matched fleet of 20 Beneteau Oceanis 37s, ideal for racing on the Solent.
With so much to see and do while on a yacht charter in the south of the UK, we've put together our guide to sailing the Solent.
Why choose the Solent for a sailing holiday?
From the mouth of the River Hamble, crews are ideally positioned to sail either east or west, taking advantage of what is arguably some of the most popular sailing ground in the world with world-class conditions, fascinating scenery and charming ports to visit, including Hamble, Cowes, Lymington and historic Portsmouth.
"No two days out on the Solent are the same, which is part of the reason why it is one of my favourite sailing grounds in the world, and right on our doorstep. There are so many beautiful little ports, anchorages and harbours to visit and the changeable weather is part of its charm." – Martin, Fairview Skipper
The protected waters provide a special sailing experience, suitable for both novices and experienced sailors, and as such, are a popular choice for first timers and returning guests. In addition to the exhilarating sailing, the area is rich in magnificent maritime history and home to some of yesteryear's most significant vessels.
What is the weather like on the Solent?
Summer weather on the south coast of England is some of the best seen in the UK, with average temperatures of around 22°C, warm sunshine and light winds. Winter sailing can also be favourable, with average temperatures of 5°C from November to March.
Sailing conditions on the Solent
The sailing conditions in the Solent are incredibly exhilarating, which is what makes it such a wonderful place to embark on a yacht charter. During the summer months, wind speeds can go from 3knts to 40knts overnight!
"With a prevailing south-westerly wind direction, the western Solent offers perfect sailing in safe waters, with The Needles as a final destination. The eastern Solent offers shelter from the breeze and areas such as Osbourne Bay offer wonderful views while at anchor." – Martin, Fairview Skipper
While the winter months are much colder and visibility can be affected, the light winds that encompass the south coast can make sailing conditions favourable.
The Cowes Week Regatta attracts over 1,000 yachts, 8,000 competitors and 100,000 spectators each year, making it the largest sailing event in Europe and you can take part, even with no previous sailing experience!
The 2020 regatta will take place from 8th – 15th August and you don't need any sailing experience to get involved, so whether you are looking for a leisurely day watching the action from one of our yachts, high-speed RIBs or powerboats or you are after a more active option actually taking part in the racing, Fairview Sailing can provide everything you need to get involved.
The best anchorages on the Solent
East Head, Chichester Harbour
Located on the eastern side of the entrance to Chichester Harbour, head to the sand dune spit of East Head for an overnight anchorage with stunning views and calm waters. A Site of Special Scientific Interest (SSSI), the area is popular with nature enthusiasts and bird watchers.
Accessed from the far western end of nearby West Wittering Beach, you can moor here either by anchor or mooring ball. Uncluttered by coastal defences, the area is as picturesque as it is relaxing, and we recommend enjoying the view with a sundowner drink on the back of your yacht. Pure bliss.
Beaulieu River
Head up Beaulieu River from the Solent and anchor overnight along this quiet, calm estuary of water. One of the most peaceful rivers on the south coast of the UK, an overnight anchorage here is highly recommended.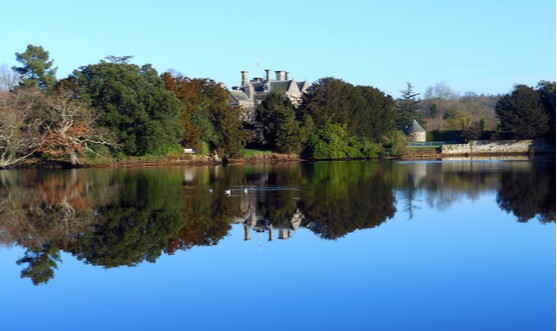 As one of the world's only privately owned rivers, the Beaulieu River has been carefully maintained for over four centuries by the Montagu family, who live along the quiet banks of the river. Enjoy watching the wide variety off wildlife that call this area their home from a mooring buoy which can be reserved overnight for just £10.
Whitecliff Bay, Bembridge, Isle of Wight
Located on the east of the Isle of Wight, Whitecliff Bay in Bembridge is a popular location for anchorage while on a yacht charter in the Solent. This beautiful bay ensures calm mooring, with the towering white cliffs of Culver keeping your yacht out of any prevailing winds. 
The sandy beach and clear waters are ideal for swimming and sunbathing (in the summer) and the rock pools at the southernmost part of the bay are a great place for families to enjoy a spot of exploring and maybe crabbing.
Newtown River, Isle of Wight
Situated along the western coast of the Isle of Wight close to Yarmouth, head to Newtown River and anchor in Clamerkin Lake, where you can go ashore and enjoy a walk along the beach and up towards Hamstead Farm, where you will be rewarded with stunning views out over the Solent.
The entrance to Newtown River is fairly narrow and is located approximately 3/4 of a mile east of Hamstead Point where careful navigation is required due to strong cross tides. There are a number of moorings in the deeper parts of the lake but anchorage is often crowded during the summer sailing season, so we recommend arriving early to secure your anchorage. 
How do I get to Hamble?
If you are travelling to the Hamble from the south of England, it is located around an hour from the M25 London Orbital. Head towards Southampton and then follow signs for Hamble. For those travelling from the north of England, you may wish to fly. Flights to Southampton Airport (SOU) are available daily from most regional UK airports with Flybe.
Once in Southampton, Port Hamble Marina is around a 30-minute taxi ride away. Our dedicated sales team will be happy to help you arrange transfers should you require – let them know when you're confirming your booking with us.
What yacht charters are available from Hamble?
Fairview Sailing offer a large fleet of 40 yachts and powerboats from our base in Port Hamble Marina, all available for bareboat. Choose from a range of monohull yachts, such as the Dufour 382, perfect for smaller parties of up to eight or for larger parties of up to 12, opt for our Dufour 460 GL, new to fleet in spring, 2019. We also have a matched fleet of 20 Beneteau Oceanis 37s, perfect for a days racing where the only thing that will set you apart from your fellow sailors is how good your skipper is!
Related article: Meet our fleet – what yachts can you choose from when sailing with Fairview
All of our yachts in Hamble are also available on a skippered charter basis, so even if you can't sail yourself, you can still experience this wonderful location with the help of a professional skipper, who will work with you to arrange the perfect itinerary.
Find out more
To find out more about bareboat or skippered charters with us in the UK, contact our team of specialists today on 02380 457023 or email info@fairviewsailing.co.uk
Read next article: Part two – The top things to see and do on a south coast yacht charter